Applications for Daycare and Boarding
All day care or boarding clients of House of Hounds must read and sign a Standard Enrollment Form. All daycare or boarding clients must be spayed/neutered and at least between 4 to 6 months of age. All new canine applicants are required to be socially evaluated before being admitted as a daycare or boarding client. Prior to attending our cage-free facility, all dogs must complete a four hour socialization trial. The trial enables our staff to properly introduce themselves to your pet and determine if House of Hounds will be the most appropriate environment for him or her. There is a $35 fee for the socialization test. During this evaluation, we are looking to see if your dog is comfortable, happy and enjoying him or herself while showing no signs of aggression.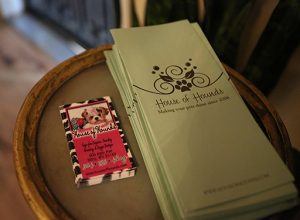 All dogs must be in good health and free of any communicable diseases. If your dog has been ill or has had surgery within the past 30 days, please let our staff know. Please do not bring your dog for daycare or boarding if you note any vomiting, diarrhea, dry heaving, coughing or any other potentially dangerous or contagious symptoms. If your pet becomes ill while staying with House of Hounds, your dog will be separated from the other dogs and be taken to his or her vet. If for any reason your vet is closed or unavailable, your dog would be taken to a local vet or emergency clinic and the owner would be charged accordingly. Your dog would then board at your local veterinarian or stay with a staff member if deemed necessary.
Reminder that dogs do tend to play rough with their mouths and it is not uncommon for them to receive a nick or scrape in the play yard. Anytime this does happen, you will be immediately notified and pack leaders will take care to keep the area clean while they are on premises.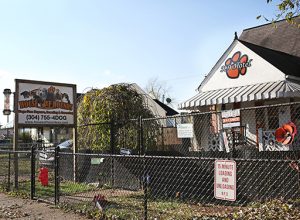 There is NO appointment needed for daycare… just drop them off 7:00am-11:00am Monday through Friday and 8:00am – 11:00am on Saturdays in Nitro or in Charleston. Arriving after 11:00am will result in five hours being deducted from your hourly package or a $15.00 late drop off fee for hourly clients. While we understand emergencies can arise, we recommend earlier arrivals to ensure your baby has plenty of time to acclimate and play with their friends, allowing for a healthy appetite and a good night's rest.
We are open 7:00am to 6:00 pm Monday through Friday at both locations and 8:00am to 5:00 pm on Saturdays in Nitro, with after hour pickup available by reservation for an additional fee at our Nitro location.
Your dog must be wearing a flat collar with an attached tag; no prong collars or choker chains.
We recommend frequent visits to daycare to help keep your pup socialized. If your dog has not attended daycare or boarding at least once every two weeks, they must do a test trial again. This is to ensure that your dog will be comfortable and familiar with our environment, staff, and doggy friends. We want to be sure your dog will be happy and comfortable during their visit.
Daycare is $4.50 per hour.
When your dog stays overnight with us, you will not need to bring bowls, beds, blankets, crates, toys, etc., it is possible these items could be chewed and/or destroyed. We have plenty of these items on hand. Remember, we provide a home like setting with couches and comfy beds to sleep on! We have dozens of water bowls throughout the house and play yards that we refresh regularly.
Please only bring the amount of food that is needed during your pets stay. We prefer individual meals portioned in clear ziplock baggies labeled with your dog's name and the amount of food to be given. We have limited space in our locations for continuous food storage and all remaining food will be returned to the owner or disposed of after visit.
Check out for boarding is 7:00am Monday – Friday, Saturday check out time is 8:00am and Sunday check out time is  9:00am. Hourly daycare rates apply at start of business hours until pick up.
ALL DOGS MUST HAVE THE FOLLOWING VACCINATIONS IN PLACE AT LEAST 3 DAYS PRIOR TO THEIR VISIT WITH US
Bordetella – We require 6 month Bordetella updates for all grooming, daycare, and boarding dogs. Some vets do not routinely administer this vaccine, while others only give it on a yearly basis, so be sure to speak with your vet's office to make sure your dog is vaccinated. Please keep in mind, the bordetella (kennel cough) vaccine is not 100% effective. The kennel cough vaccine is comparative to the flu vaccine for humans with about 60% effectiveness.
DHPP – within the last year or three years depending on your dogs age.
Rabies – Within the last year or three years depending on your dogs age.
Heartworm & Flea preventative– You can bring an invoice from either your veterinarian office or receipts from where it was purchased.
Exceptions for the vaccination requirements can be made. For example, if your baby has an underlying illness which could be aggravated by vaccines, we would just need to speak with your vet. Please contact us regarding any concerns you may have about our vaccine policy.
Canine Influenzas Vaccine (dog flu)